14 SERVINGS (28 PACKS)
FLAVORS
View full details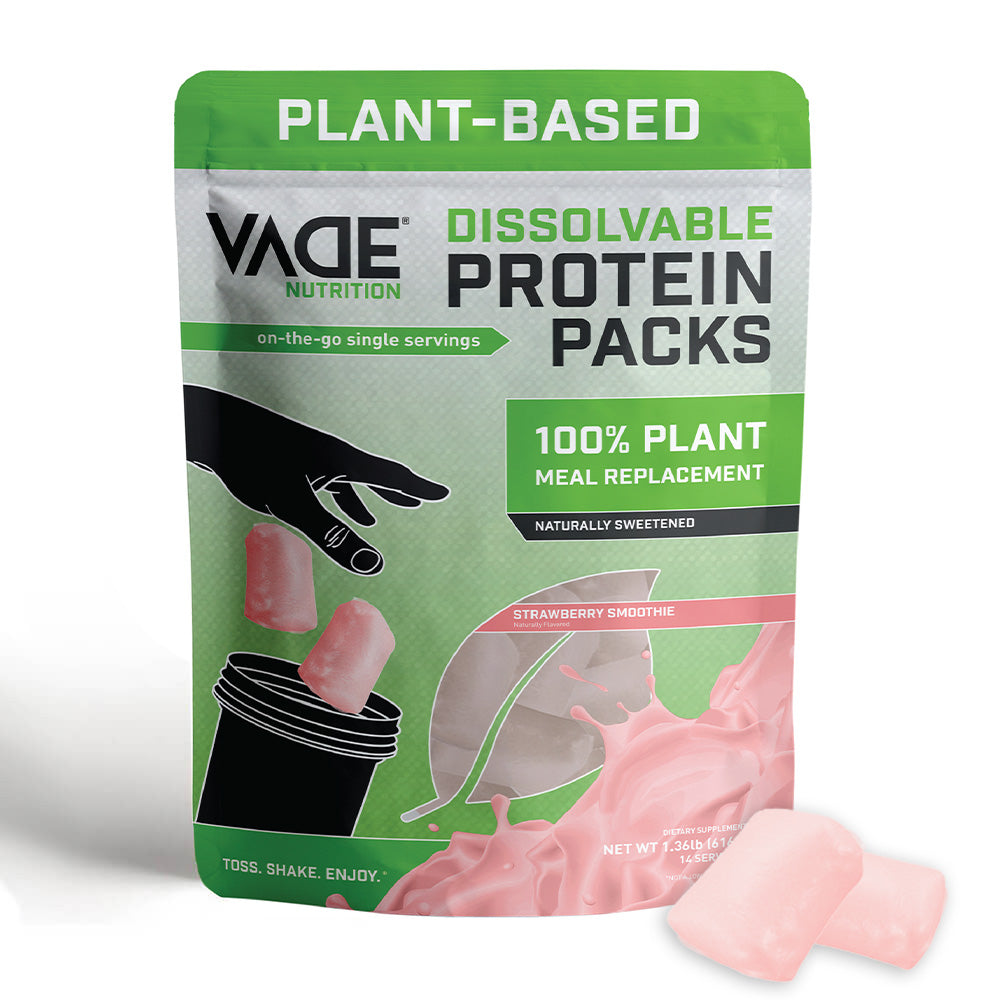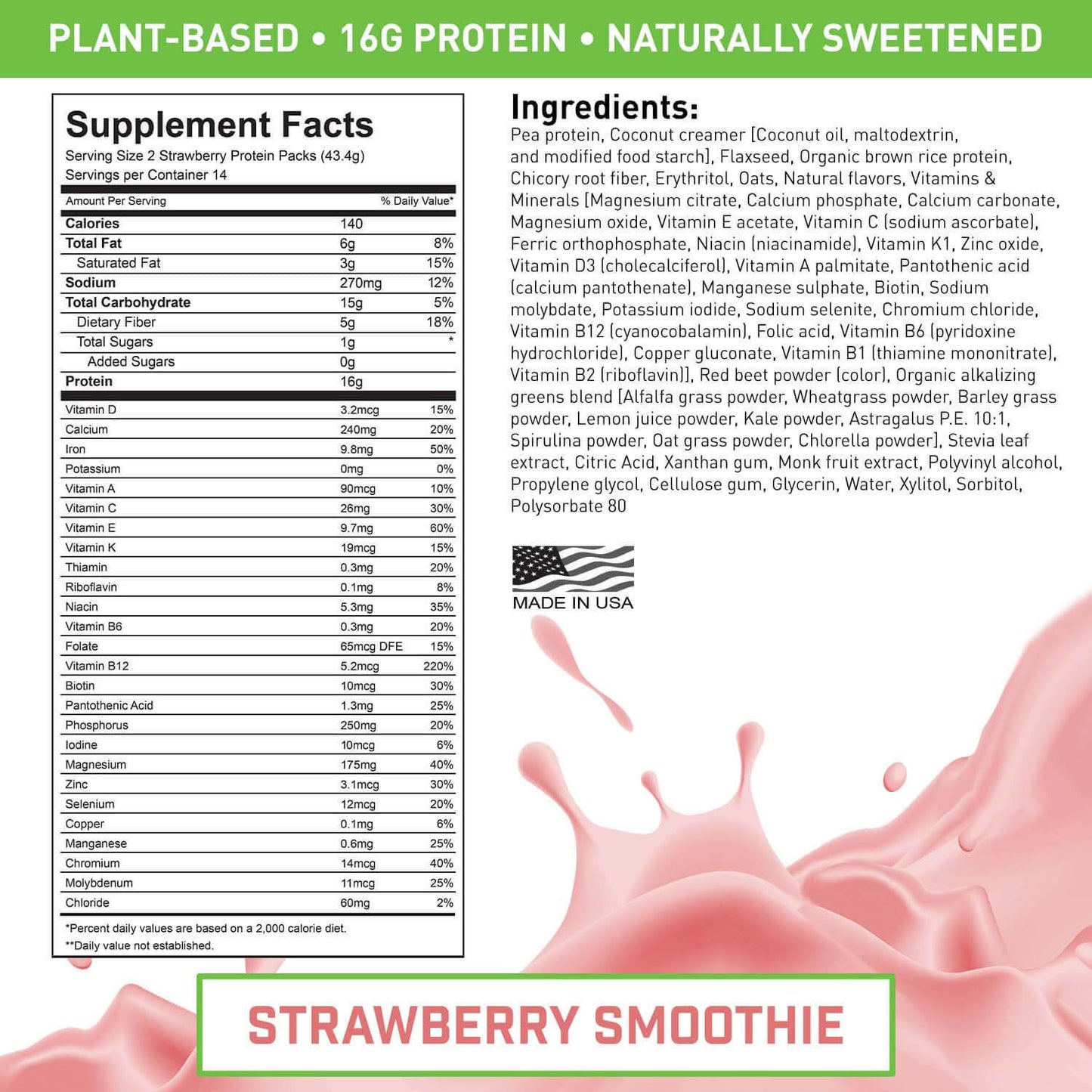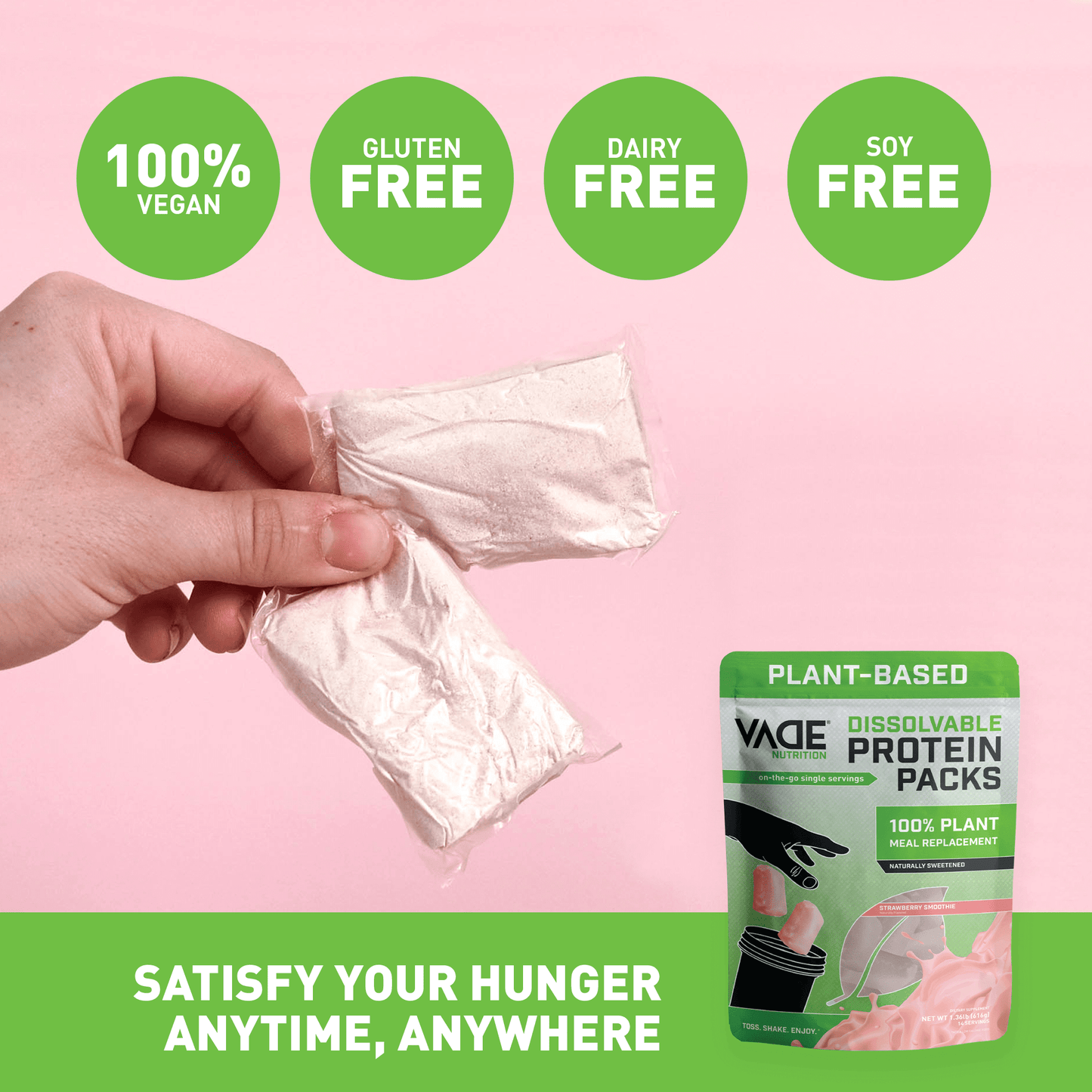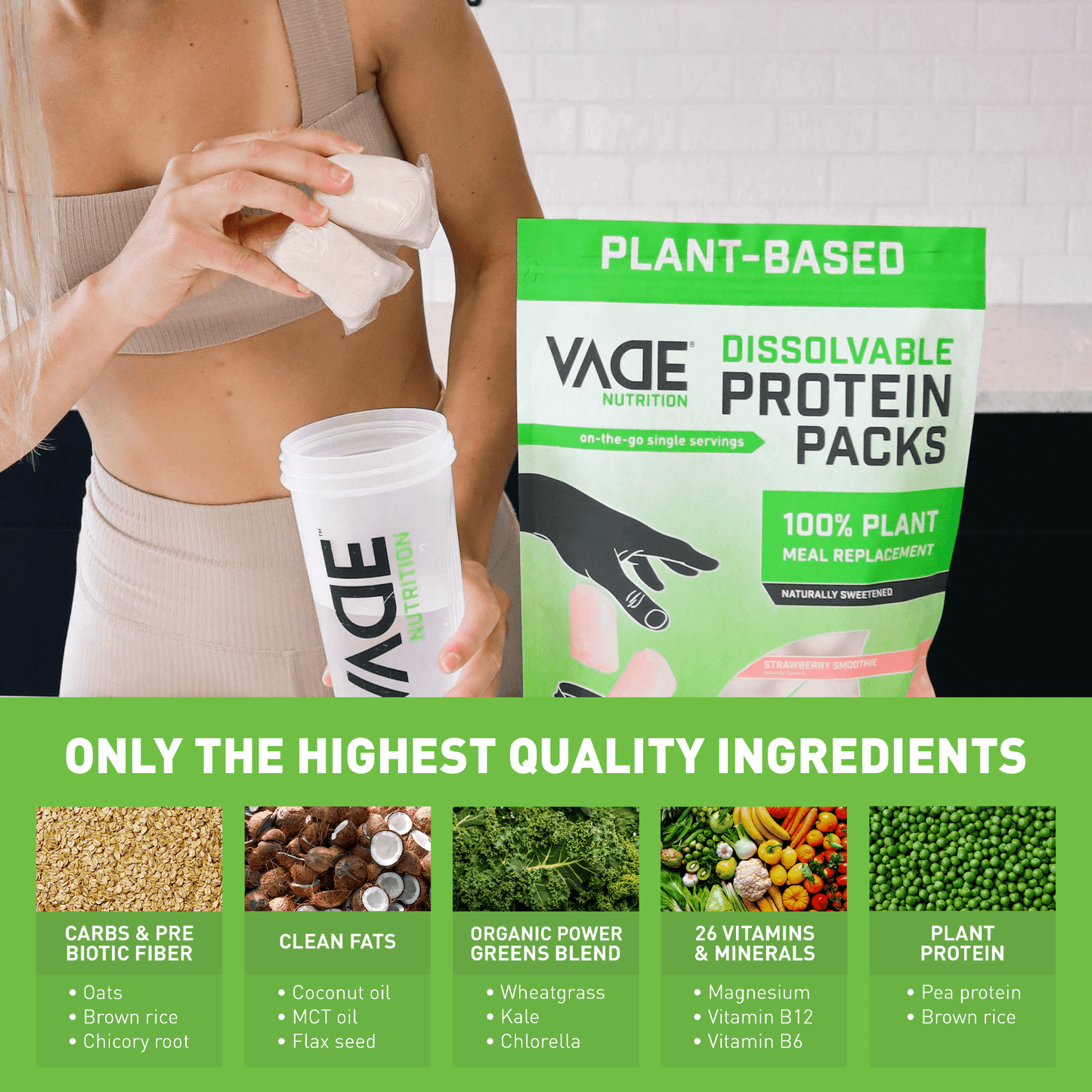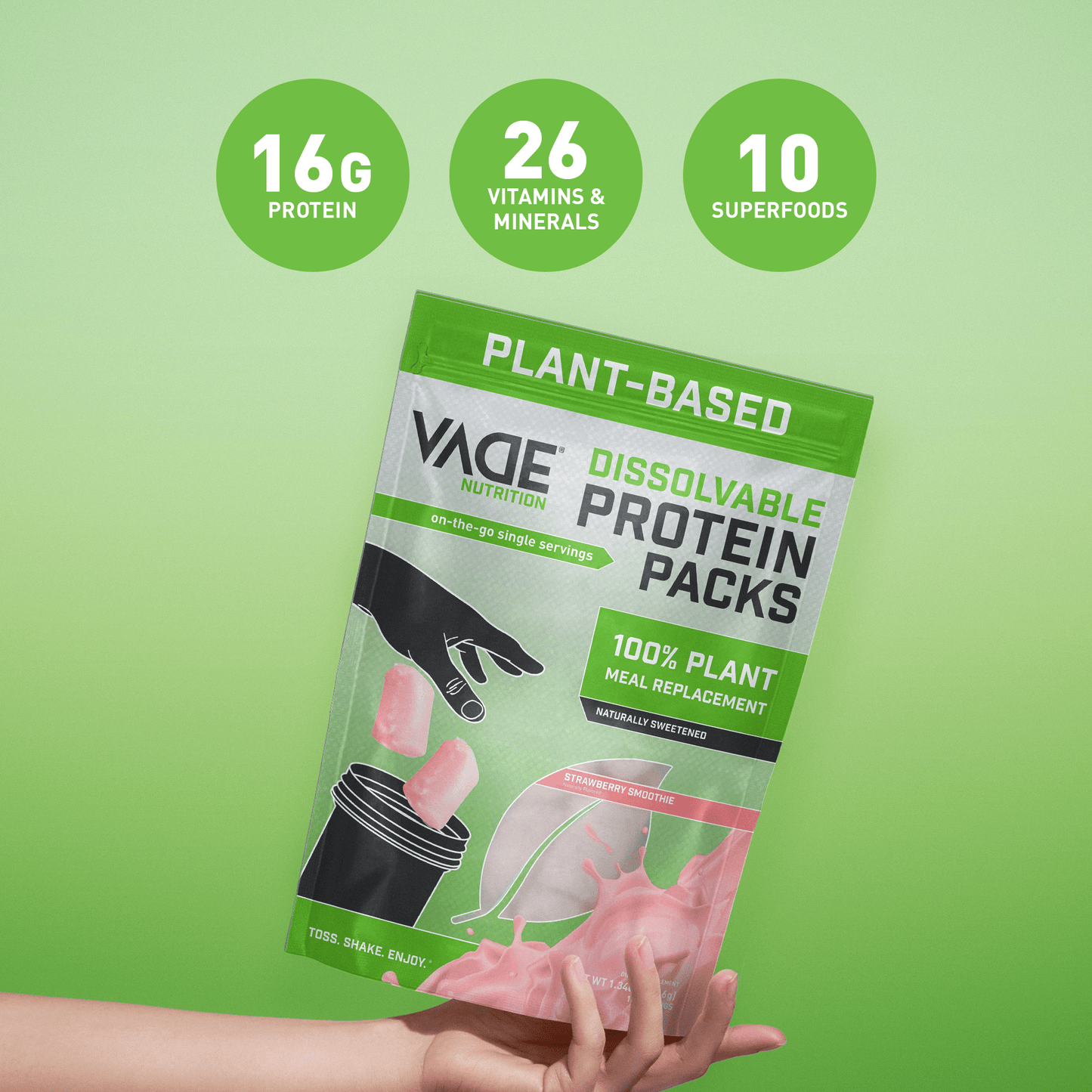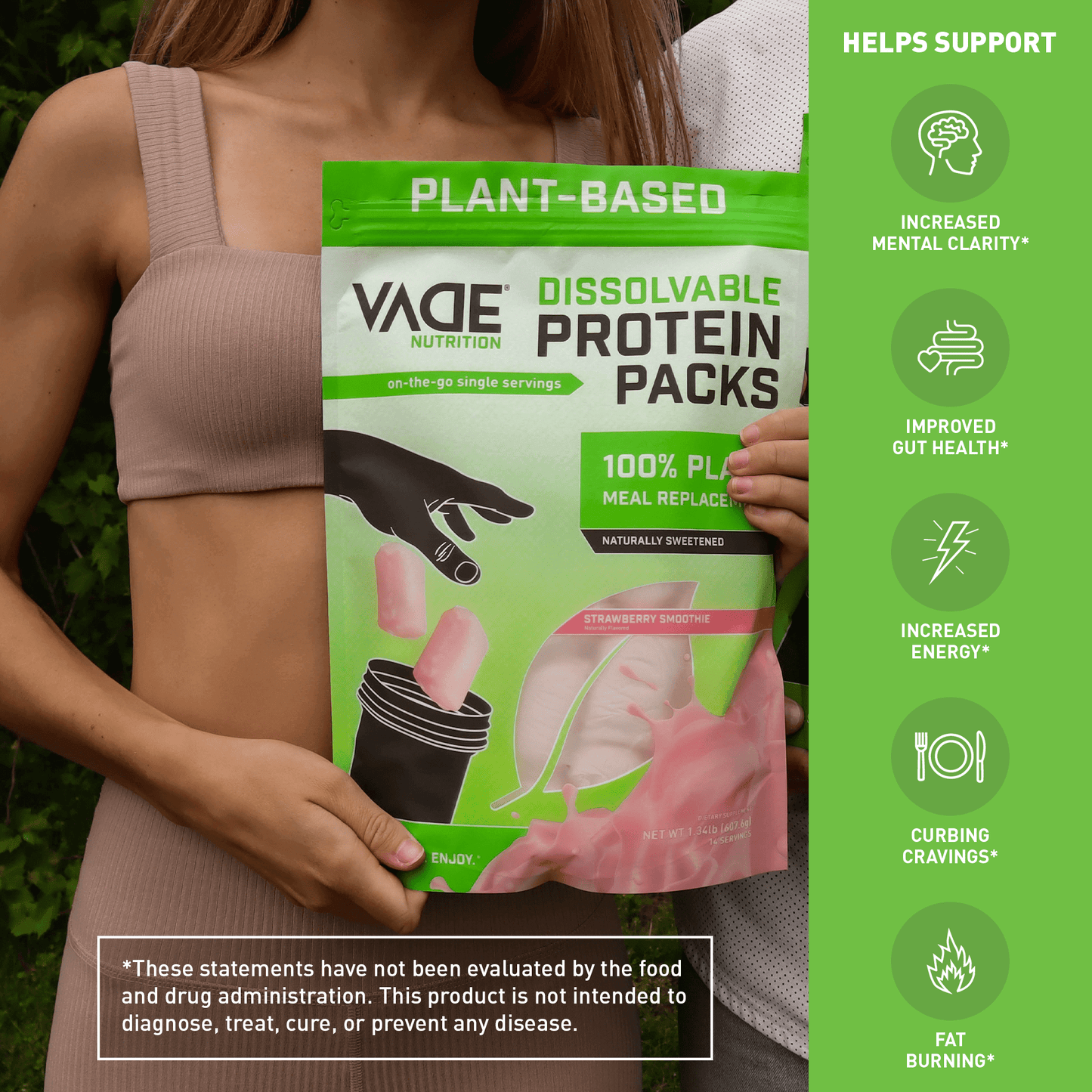 Collapsible content
Description

Are you looking for a convenient, nutritious meal replacement that fits your busy lifestyle and dietary needs? Look no further than VADE Nutrition's 100% Plant-Based Protein! This all-in-one formula is made from high-quality ingredients like pea protein, brown rice, chicory root fiber, and an organic power greens blend.

Packed with 16G of protein and 26 essential vitamins and minerals, this meal replacement is a great source of fiber, antioxidants, prebiotics, and clean fats. Plus, it's 100% vegan and naturally sweetened, making it perfect for those following a plant-based diet. And with 20 greens and veggies in every serving, you'll be getting a powerhouse of nutrients in every scoop.

But don't just take our word for it - check out the rave reviews from satisfied customers. It's no wonder that VADE Nutrition's 100% Plant-Based Protein is quickly becoming the go-to choice for wellness enthusiasts everywhere. So why wait? Try it out for yourself and experience the delicious, creamy taste and nourishing benefits of VADE Nutrition's meal replacement. Your body (and taste buds) will thank you!

16G Protein
26 Vitamins & Minerals
20 Greens & Veggies
100% Vegan
Naturally Sweetened
Organic Power Greens Blend
Ingredients

Rich Chocolate:

Pea protein, Coconut creamer [Coconut oil, maltodextrin, and modified food starch], Flaxseed, Erythritol, Cocoa powder [processed with alkali], Organic brown rice protein, Natural Flavors, Chicory root fiber, Oats, Vitamins & Minerals [Magnesium citrate, Calcium phosphate, Calcium carbonate, Magnesium oxide, Vitamin E acetate, Sodium ascorbate, Ferric orthophosphate, Niacinamide, Zinc oxide, Phytonadione (vitamin K1), Calcium pantothenate, Cholecalciferol (vitamin D3), Manganese sulfate, Sodium molybdate, Biotin, Potassium iodide, Sodium selenite, Vitamin A palmitate, Chromium chloride, Cyanocobalamin (Vitamin B12), Folic acid, Pyridoxine hydrochloride (Vitamin B6), Copper gluconate,Thiamine Mononitrate (vitamin B1), and Riboflavin (vitamin B2)], Organic alkalizing greens blend [Alfalfa grass powder, Wheatgrass powder, Barley grass powder, Lemon juice powder, Kale powder, Astragalus P.E. 10:1, Spirulina powder, Oat grass powder, Chlorella powder] Stevia leaf extract, Xanthan gum, Monk fruit extract, Polyvinyl alcohol, Propylene glycol, Cellulose gum, Glycerin, Water, Xylitol, Sorbitol, Polysorbate 80

Strawberry Smoothie:

Pea protein, Coconut creamer [Coconut oil, maltodextrin, and modified food starch], Flaxseed, Organic brown rice protein, Chicory root fiber, Erythritol, Oats, Natural flavors, Vitamins & Minerals [Magnesium citrate, Calcium phosphate, Calcium carbonate, Magnesium oxide, Vitamin E acetate, Vitamin C (sodium ascorbate), Ferric orthophosphate, Niacin (niacinamide), Vitamin K1, Zinc oxide, Vitamin D3 (cholecalciferol), Vitamin A palmitate, Pantothenic acid (calcium pantothenate), Manganese sulphate, Biotin, Sodium molybdate, Potassium iodide, Sodium selenite, Chromium chloride, Vitamin B12 (cyanocobalamin), Folic acid, Vitamin B6 (pyridoxine hydrochloride), Copper gluconate, Vitamin B1 (thiamine mononitrate), Vitamin B2 (riboflavin)], Red beet powder (color), Organic alkalizing greens blend [Alfalfa grass powder, Wheatgrass powder, Barley grass powder, Lemon juice powder, Kale powder, Astragalus P.E. 10:1, Spirulina powder, Oat grass powder, Chlorella powder], Stevia leaf extract, Citric Acid, Xanthan gum, Monk fruit extract, Polyvinyl alcohol, Propylene glycol, Cellulose gum, Glycerin, Water, Xylitol, Sorbitol, Polysorbate 80

French Vanilla:

Pea protein, Coconut creamer [Coconut oil, maltodextrin, and modified food starch], Flaxseed, Organic brown rice protein, Chicory root fiber, Erythritol, Oats, Natural flavors, Vitamins & Minerals [Magnesium citrate, Calcium phosphate, Calcium carbonate, Magnesium oxide, Vitamin E acetate, Vitamin C (sodium ascorbate), Ferric orthophosphate, Niacin (niacinamide), Vitamin K1, Zinc oxide, Vitamin D3 (cholecalciferol), Vitamin A palmitate, Pantothenic acid (calcium pantothenate), Manganese sulphate, Biotin, Sodium molybdate, Potassium iodide, Sodium selenite, Chromium chloride, Vitamin B12 (cyanocobalamin), Folic acid, Vitamin B6 (pyridoxine hydrochloride), Copper gluconate, Vitamin B1 (thiamine mononitrate), Vitamin B2 (riboflavin)], Organic alkalizing greens blend [Alfalfa grass powder, Wheatgrass powder, Barley grass powder, Lemon juice powder, Kale powder, Astragalus P.E. 10:1, Spirulina powder, Oat grass powder, Chlorella powder], Stevia leaf extract, Xanthan gum, Monk fruit extract, Polyvinyl alcohol, Propylene glycol, Cellulose gum, Glycerin, Water, Xylitol, Sorbitol, Polysorbate 80
Instructions

Add (2) Dissolvable Plant-Based Meal Replacement Packs to 12-16 oz of cold water, milk, smoothie or favorite drink. Shake or blend for about 10-20 seconds, or until smooth. For best results do not mix more than 2 Dissolvable Packs in liquid at one time. Do not remove the pre-measured protein scoop from its clear dissolvable film. This product is intended to be consumed as a beverage after being dissolved in liquid. Do not eat, ingest or swallow whole, for risk of choking. Store in a cool, dry place. Keep out of reach of children. *These statements have not been evaluated by the food and drug administration.

This product is not intended to diagnose, treat cure or prevent any disease.

Warning: Consult your healthcare provider prior to use if you are pregnant, nursing, taking medication or have any medical conditions.

Notice: Use this product as a food supplement only. Do not use for weight reduction.