28 SERVINGS
FLAVORS
View full details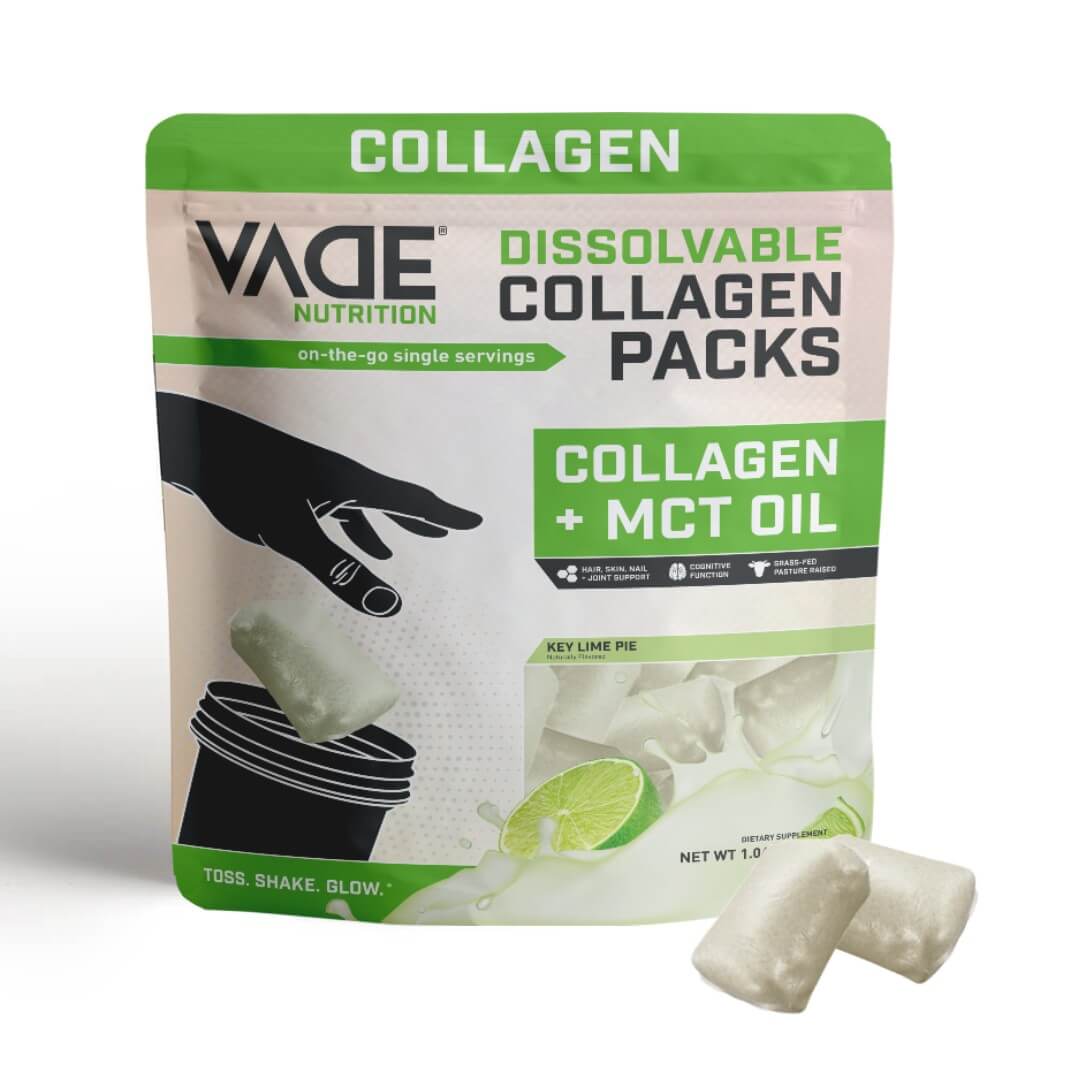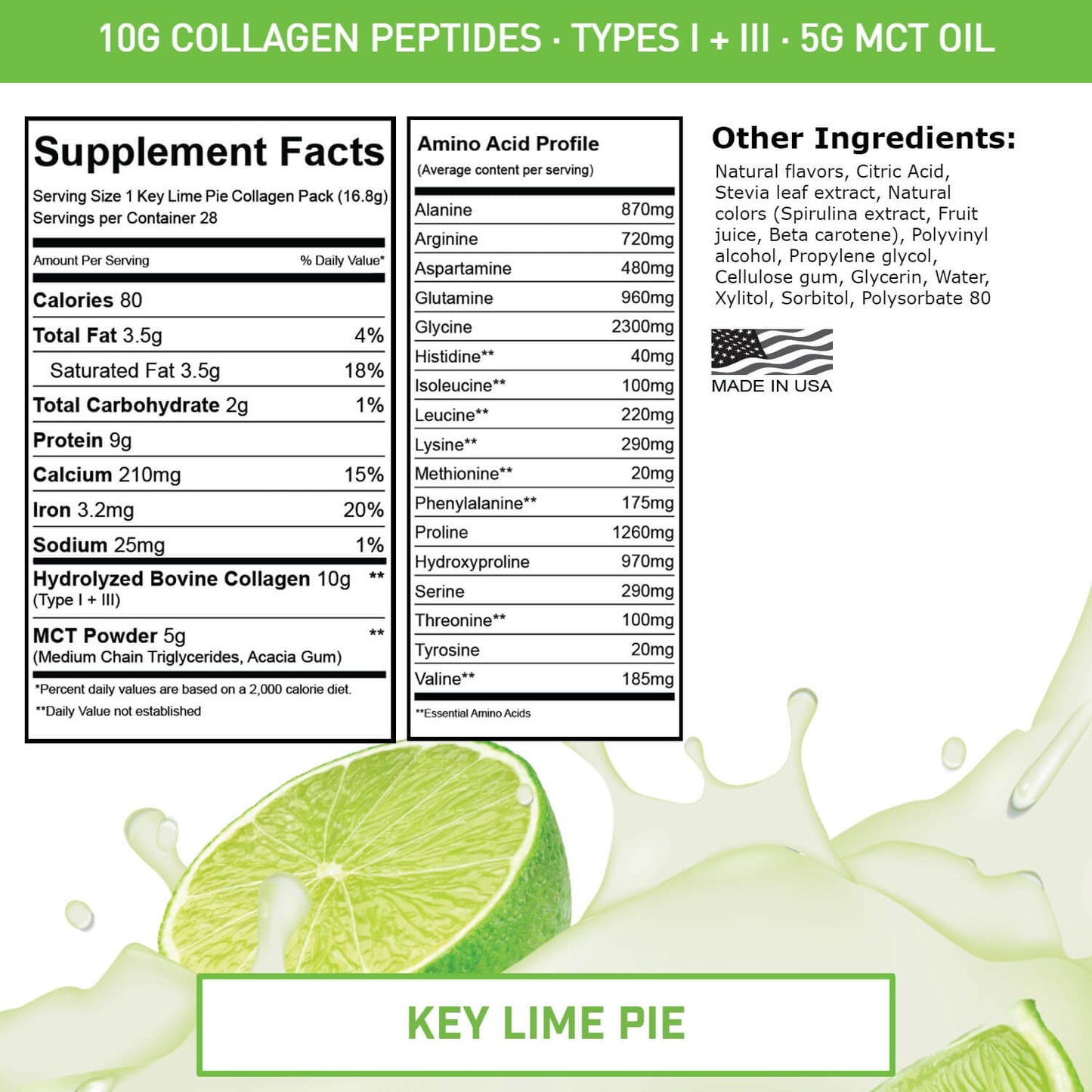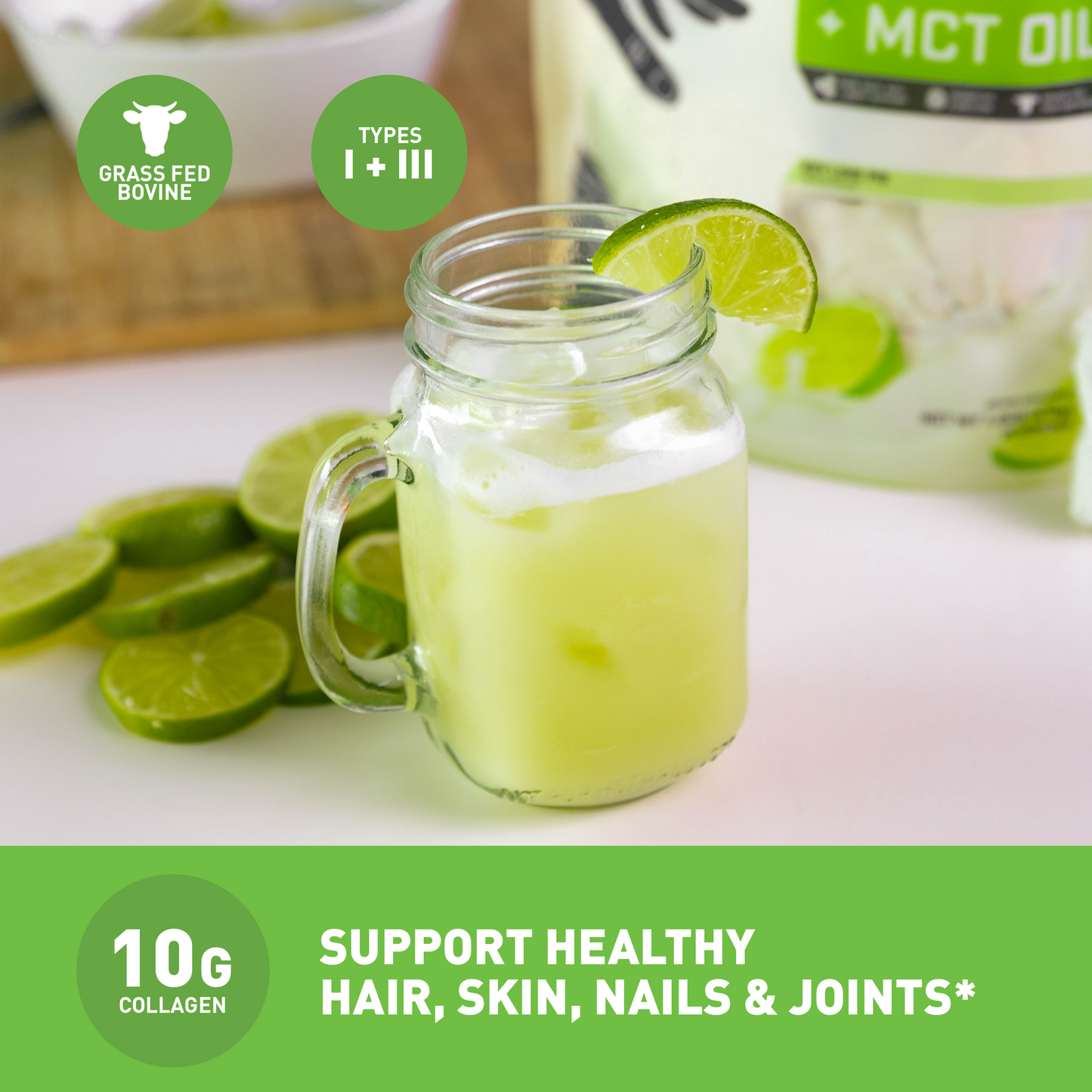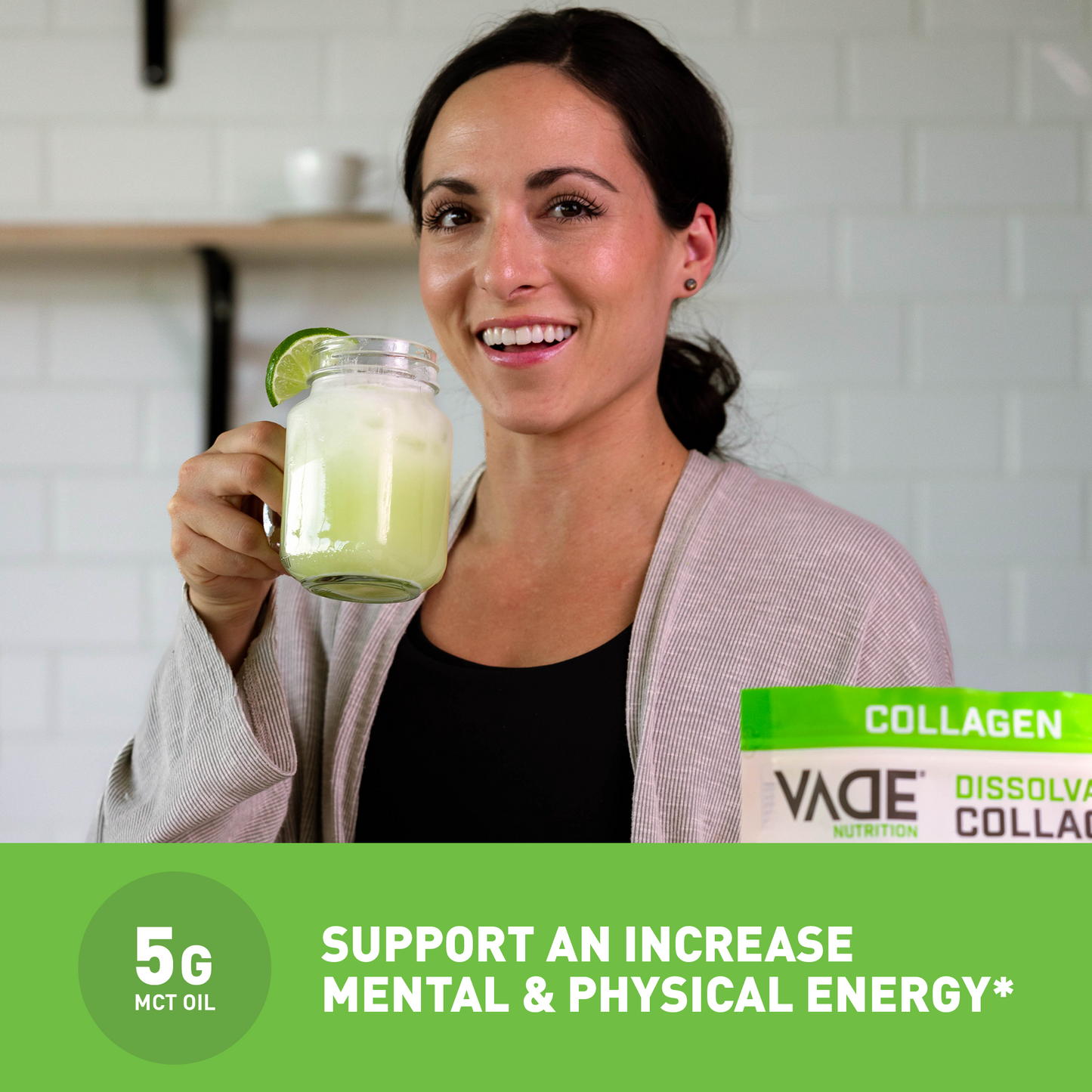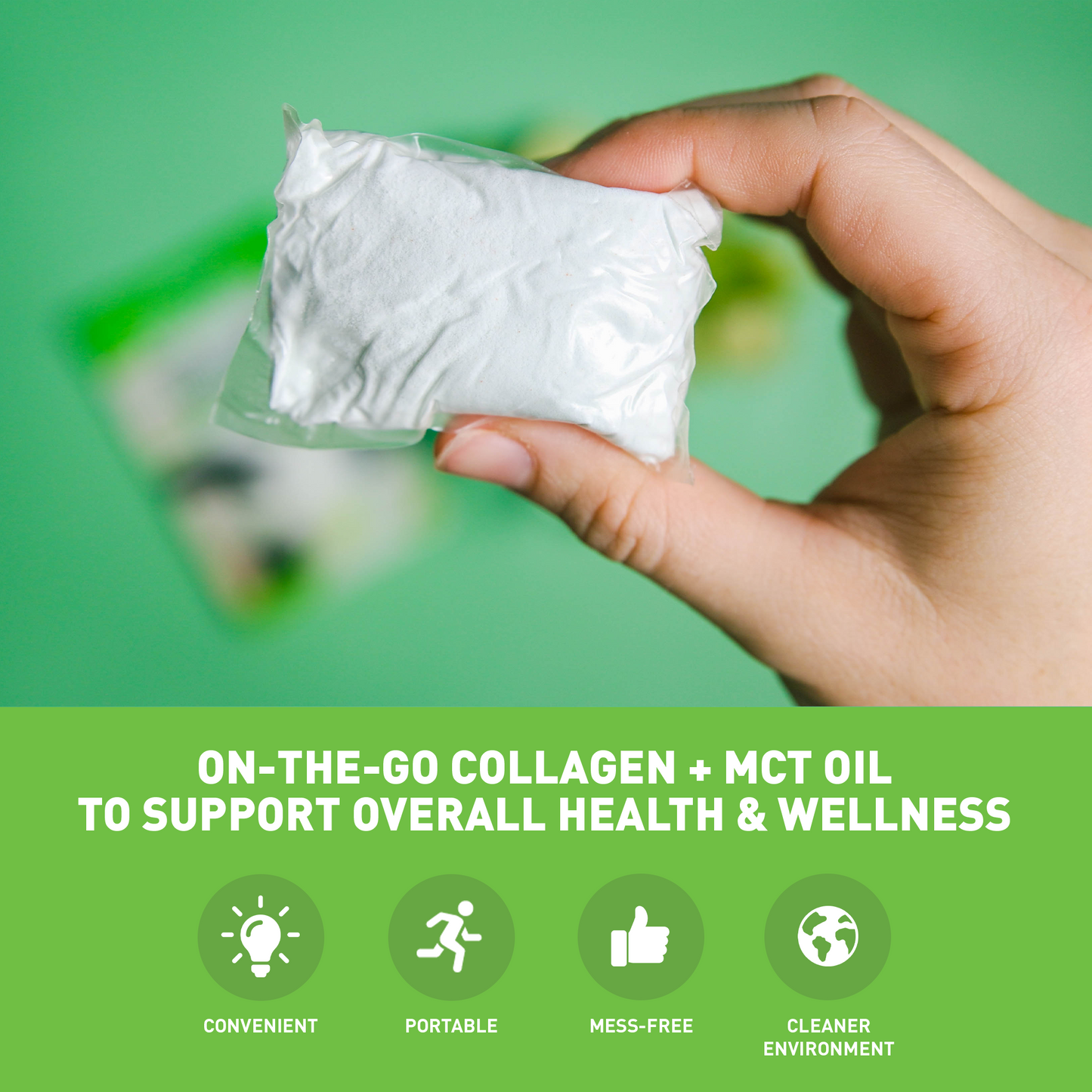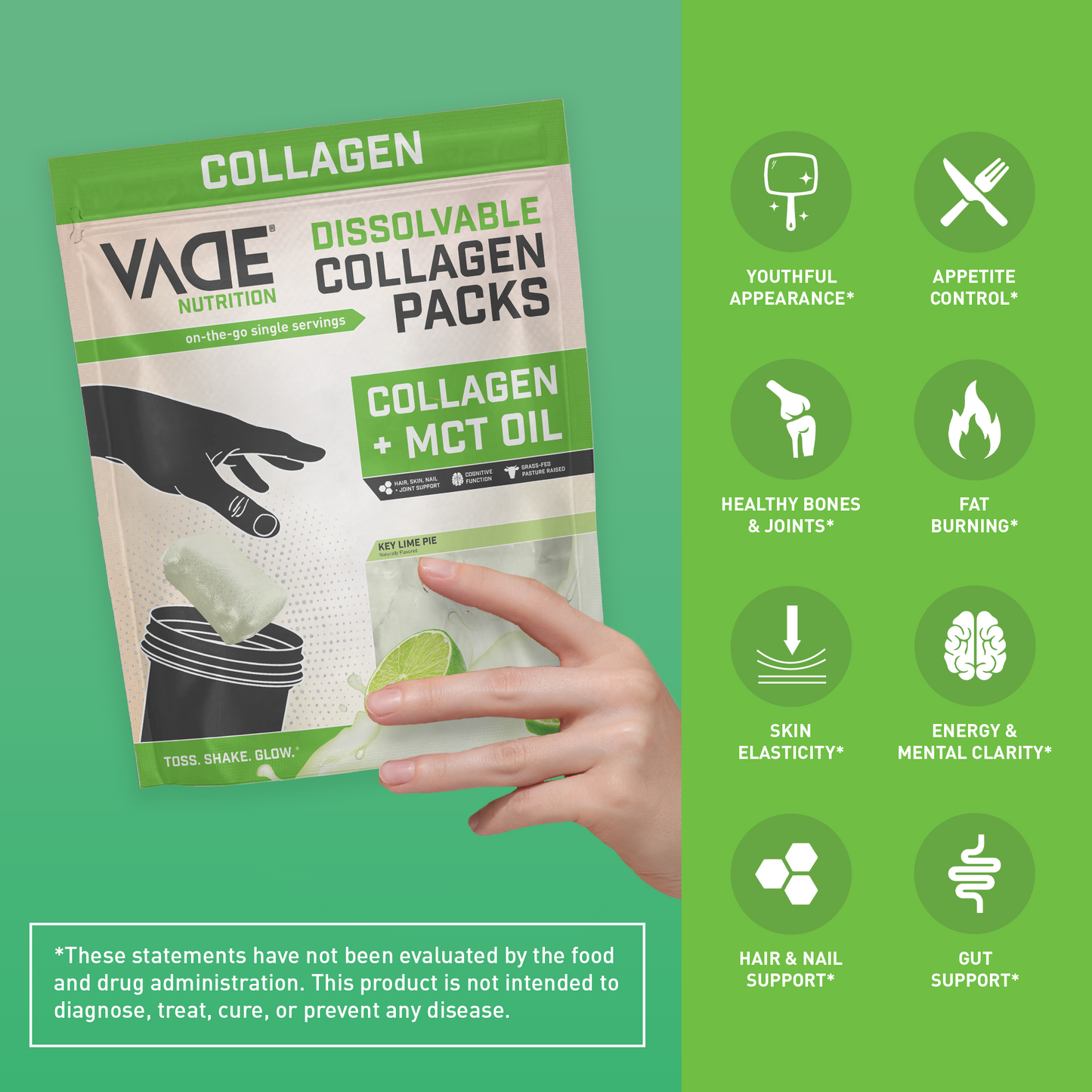 Collapsible content
Description

Looking for a way to support healthy hair, skin, nails, and joints while also boosting energy, focus, and mental clarity? Look no further than VADE Nutrition's Collagen + MCT Oil! This delicious Key Lime Pie-flavored formula is packed with 10G of hydrolyzed Types 1&3 collagen peptides and 5G of MCT oil to help support your mind and body.

Easily digestible and versatile, VADE Nutrition's Collagen + MCT Oil can be used as an immediate source of energy or to provide long-lasting energy throughout the day. Simply mix or shake into hot or cold liquids such as coffee, water, smoothies, and your favorite recipes. It's as easy as toss, mix, and enjoy!

But don't just take our word for it - check out the rave reviews from satisfied customers. It's no wonder that VADE Nutrition's Collagen + MCT Oil is quickly becoming the go-to choice for wellness enthusiasts everywhere. So why wait? Try it out for yourself and experience the mind and body support that only VADE Nutrition can provide. And with its sugar-free formula, you can feel good about indulging in the delicious Key Lime Pie flavor guilt-free. So, give it a try and see the difference for yourself!

10G Collagen Peptides
5G MCT Oil
Sugar Free
Ingredients

Unflavored:

Polyvinyl alcohol, Propylene glycol, Cellulose gum, Glycerin, Water, Xylitol, Sorbitol, Polysorbate 80

Contains: Tree Nut (Coconut)

Key Lime Pie:

Natural flavors, Citric acid, Stevia leaf extract, Natural colors (Spirulina extract, Fruit juice, Beta carotene), Polyvinyl alcohol, Propylene glycol, Cellulose gum, Glycerin, Water, Xylitol, Sorbitol, Polysorbate 80

Contains: Tree Nut (Coconut)

Orange Cream:

Natural flavors, Citric acid, Stevia leaf extract, Natural colors (Spirulina extract, Fruit juice, Beta carotene), Polyvinyl alcohol, Propylene glycol, Cellulose gum, Glycerin, Water, Xylitol, Sorbitol, Polysorbate 80

Contains: Tree Nut (Coconut)

Piña Colada:

Natural flavors, Citric acid, Stevia leaf extract, Natural colors (Spirulina extract, Fruit juice, Beta carotene), Polyvinyl alcohol, Propylene glycol, Cellulose gum, Glycerin, Water, Xylitol, Sorbitol, Polysorbate 80

Contains: Tree Nut (Coconut)
Instructions

Add one (1) Collagen + MCT Oil DISSOLVABLE PACK to 8-12 oz cold or hot water, coffee, smoothies, protein shakes, favorite drink or recipe once daily. Mix or shake for about 10-20 seconds, or until smooth. Do not remove the pre-measured protein pack from its clear dissolvable film. This product is intended to be consumed as a beverage after being dissolved in liquid. Do not eat, ingest or swallow whole, for risk of choking. Store in a cool, dry place. Keep out of reach of children. *These statements have not been evaluated by the food and drug administration.

This product is not intended to diagnose, treat cure or prevent any disease.

Warning: Consult your healthcare provider prior to use if you are pregnant, nursing, taking medication or have any medical conditions.

Notice: Use this product as a food supplement only. Do not use for weight reduction.
Does what it says !!
Great product !! Really improves energy level !
Collagen + MCT Oil
Amazing product! Like to mix the unflavored along with my chocolate milkshake in the morning. Great quick energy. Have been using it for about 2 weeks, so still evaluating. But so far, so good!
Delicious
Refreshing and delicious!